I received another award today for an icon I did for

btvsats_contest
!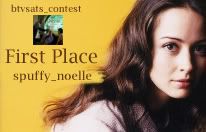 And I'd like to pimp out

tv_fandoms
theres a poll going on right now for the first challenge and not many members so if your a graphic artist join and if not just help out and vote for your favorites!

Wow. I'm still in shock. I won first place over at

spikestillness
!!! My first entry in that community. Thanks to anyone who voted for me!